After a few tough weeks of teaching and babysitting I am on spring break. The worst part of my allergies have subsided and my cough is almost gone ( I no longer need codeine to sleep, so that's a plus) I spent my good Friday finally getting my hair trimmed (only 1.5 inches not worthy of self portrait) a manicure, pedicure and getting my eyebrows tamed. It was nice to all of these things for myself and feel
pretty
even if I look just about the same. On Saturday, we made our way downstate for some hiking, running, and family time. We stopped at
Mohonk Perserve
for a little 6 mile hike. This is privately owned and maintained land, so it was a bit pricey to pay to go hiking ($12 bucks each!) but it had some beautiful views and was most certainly worth it.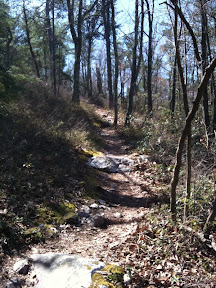 -
There were TONs of rock climbers there, it all looked a little terrifying to me, but maybe one day I'll give rock climbing outdoors a try. Eventually, after a nice lunch at a local microbrewery The Gilded Otter we made our way to our destination. We spent the rest of the weekend eating lots of delicious home made food (which always seems better when it's cooked by a Mom rather than my own home cooked meals) A few of us went to see American Reunion Saturday evening which was on par with the rest of the series and a nice trip down memory lane.
To pay for some of our food sins, we went out for a run on Sunday morning. This was an easy run for the other two people involved who have natural ability and are fitter than myself. For me, I was the out of breath friend huffing and puffing trying to keep up. I was truly "naked" on this run. I have switched to new shoes that are non-nike, meaning that I no longer have my footpad to track my pace, I forgot my timex watch so I had no concept of time and I was in a new town with no idea where I was for 90% of the run. Surprisingly I didn't die, and while my running partners did do some extra loops, push ups, burpees, and jumping jaxs to wait for me, I did finish about 5 miles in roughly 46-47 minutes not so shabby for me!
I was stoked about the run, but even more exciting is that the Easter bunny came for the first time in ages! I am well stocked on a variety of chocolates for a while, but one in particular inspired me to try something new.
a gift from the Easter Bunny
Some more nutritional snacks to add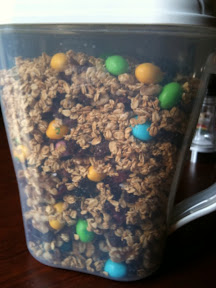 Result: Lazy Man home made granola!
I made my very own "home made" granola. I knew otherwise I'd eat the whole bag so I bought some plain granola added dried berries, walnuts, raisin, and the almond M&M's to have ready to mix with my Stonyfield plain yogurt.
Overall a fantastic and fun weekend to kick off my spring break!