I had all sorts of plans for this weekend, it was a volunteer week ( I volunteer every other weekend) and I was excited to work on the community garden they are creating. I was going to do some hiking up in Lake George, and I also had planned on running a 5k in hopes of officially PR'ing since I couldn't decide if I had truly earned in based off of my watch.
But then life happened. If started simple enough, my Aunt had a doctors appointment and would prefer to not bring her 10 year old daughter. I didn't have any confirmed plans, so I picked up her up, brought her to the nail salon to get her nails painted ( I did get a full manicure) and then to the outdoor dinner/ice cream stand that is only open during the warm months. So hiking was out, and that's okay because I don't get to spend a ton of time with cousin, especially since we're 17 years apart.
After I dropped my cousin home, my Aunt sheepishly asks if I have plans for the weekend, I did, but it wasn't critical and everyone knows that family comes first. My Aunt is a single mom & nurse, who often has to work weekends, she does have a weekend babysitter, but she was sick. I sent an email to my volunteer group and told them that I wouldn't be making it. ( I volunteer with inner city youth, that are just a bit too old for my cousin to hang with) My cousin is pretty cool. Awfully quiet, especially in comparison to me, because silence make me nervous so I'm always chatting about nothing.
We went to the movies on Saturday and saw Mirror, Mirror. I didn't know anything about this movie, but I LOVED it. I thought it was hilarious and totally my genre. Later, we made a giant mess in the kitchen and made home made brownies. None of that from the box and add oil and water, totally from the beginning. It was the first time I had tried and they were delicious, so delicious in fact, that they were all gone by morning ( and I never even had one, only crumbs!)
I was still planning on running the race on Sunday, mostly just to stick to my
New Year's Resolution
to race once a month. My cousin has expressed interest in running and wanted to join me. I instantly tossed away any expectations for the race and was SO excited to be sharing one of my biggest passions with someone in my family. There are very few runners in my family, there are also very few people.
We went down to the
Crossings
which is a really nice park in Colonie. There are very few trees, so I can't forsee myself coming here in the summer, because I like my shade. But, I would definitely come here and walk/jog again for sure. We registered for the race and were given a water bottle but no shirt. No big deal, but I was hoping that my cousin would get one to remember her first race.
The race started a few minutes late, due to the race being a bit slow in getting out bibs and there only being a few bathrooms for all the women. A local college puts the race on, and I think to minimize cost, they just use the park's rest rooms instead of portajons.
Once we got started we jogged for about 3 minutes before taking our first walk break for 1 minutes. We did something similar to this combination throughout the run and finished at 41:14. I am SO proud of my cousin, she did such a fantastic job and is excited to do another race again. I was secretly hoping that she would age-place but there were a few quick 13 year olds, so that'll have to wait until the her next race.
After we were done, I asked if they had any left over shirts. They did, and for a 5 dollar donation one could be mine. Normally, I probably wouldn't have bothered, but as tacky as race shirt are, you never forget your first, so I shelled out the 5 bucks for my cousin and then another for my own and we got long sleeve race shirts.
I was totally caught making funny faces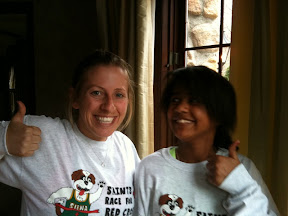 forget the sprints, my cousin will be a long distance star
finally a mildly awkward normal one!
After enjoying some Friendly's lunch and ice cream ( they have their calories on their menu, so I actually paid attention and got something that wasn't as terrible for me) We lounged around the house in traditional post race fashion. I could tell my ever energized cousin was bored, so I suggested we should go to the library. She suggested that we walk. It was about a 15 minute walk, where we then found my favorite childhood chapter book ( Wait til Helen Comes) and walked home to read. We jogged parts of it and raced the length of my street home. I'll be sad when she learns how to pace and builds endurance because she will most certainly be faster than me, after all, she is Ethiopian.
Despite the weekend being a change of pace of what I had planned, it was a blast, and already looking for more races for my cousin and I to do together.