I have been a "
flexitarian
" for a while now. A few years back I gave up red meat and pork primarily because I found that eating a lot of meat aggravated my ulceration colitis/crohns disease. I began to reincorporate it at the end of 2010, but still only eat red meat 1-2 times a month. I haven't had any pork products since returning from Spain (where I did consumed it almost daily).
I've often contemplated going vegetarian, but I do enjoy
meat
chicken, eggs and fish. As a result, I've been making an effort to purchase hormone free chicken, locally produced eggs and dairy. Obviously local products are more expensive which does limit the amount I consume. (of course unless someone else is buying.. don't judge I'm underemployed which is a different rant for another time)
One of my bucket list goals was to try following a
vegan
diet for one week. Since the
roommates/
parents have left for Florida, I have free range of the kitchen and my meals so I've decided to give it a chance this week. Following a vegetarian diet for me is very easy. Vegan however is far more challenging.
Thankfully my usual breakfast is already vegan friendly. Old Fashion Oats, raisins, and a bit of brown sugar.
I made a batch of quinoa to add onto salads and to eat alone.
spinach, mushrooms, cukes, tomato, chickpeas & quinoa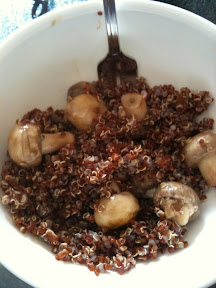 And then to make life a bit easier, since I babysit during regular dinner hours (5-10 or 4-9) I made a large batch Black Bean- Sweet Potato Chili (from the cookbook "
The Meat Lover's Meatless Cookbook
")
Ingredients:
Black Beans (1 pound) book recommends dried, I didn't have the patience and it still taste great. plus Goya was buy 4 for 3 dollars this week at my local supermarket.
1 medium-size sweet potato(12-16 oz), peeled and cut into 1/2 cubes
3 tablespoons of vegetable oil
1 medium size onion chopped finely
4 cloves of garlic, minced
1 tablespoon ground cumin
1/8 teaspoon dried cinnamon ( I skipped this, couldn't find cinnamon in the cabinet when I went to cook!)
1 teaspoon dried oregano
1/2 teaspoon cayenne
1 teaspoon smoked paprika
1/2 teaspoon salt
2-2.5 cups tomato puree
2 tablespoons tomato paste, dissolved into 1/4 cup water
2 chipotle chilies in adobo sauce, minced
Steps:
Boil sweet potato
Heat oil in deep skillet and add onion (soften for 6 minutes or so)
add garlic followed by cumin, cinnamon, oregano, cayenne, smoked paprika and salt
Add sweet potato for 3-5 minutes before
Adding 2 cups of tomato puree and bring to a lively simmer
stir in tomato paste and chipotle chilies.
Lower heat and cook until well blended, stirring regularly to keep from
sticking and burning.
Mix with beans and stir to combine.
Simmer over medium-low heat until you are satisfied with the overall consistency and texture of the chili
Review: I love it. It was a very unique sweet and spicy flavor. I made mine over some jasmine rice for quick and easy dinner to go.
As for remaining Vegan? I'll stick it out until Friday. (5 days is still considered a "week" even if its not the whole 7) So far, there are definitely components that I'll keep with me, but there are some things I could never live without (ie Parmesan Goldfish Crackers).