I've been running for a few years now, but I still very rarely receive running gear as apart of my Christmas gifts. This year, I finally listed a few things I've been eyeing but I haven't been willing to shell the cash.
I asked for arm warmers from
runningskirts.com
but sadly they were soldout/back ordered so my sister ended up buying me a pair of
Zensah
ones instead. They are quite nice and very comfortable. I've used them for a few runs and they help me stay a bit warmer without the added bulkiness of an additional layer. I'll continue to use them when I do get a chance to run outdoors and I definitely recommend these to anyone else that is considering purchasing arm warmers
My brother in law is a Ironman triathlete and has been involved in endurance sports for a while. He bought me a few pairs of his favorite brand
SOLE
try out. Lord knows how lame socks can be for Christmas, but it's an awesome time to try new brands and stock up when you're a runner. Call me a nerd, but I LOVE socks. He bought two different styles, one thick and one thin. Normally I am a thin sock person and while I really enjoy the feel of them, they seem to slip a bit much while running and after my 6 mile run today I noticed a few hot spots where I haven't had a problem before. I do still like them, but they may be better for cross training days. I initially wore the thicker socks only because it's cold outside and I thought it might keep my feet a bit warmer, it turns out I love the cushion feel. I wore them on my Christmas day run and again for my new years eve/day 4 miler. Both times felt great, I definitely plan to continue running in these and stocking up my collection.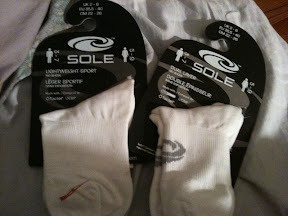 Santa aka Ma bought me a pair of compression socks from
runningskirts.com
she initially ordered 2, but I've only received one so far (mildly disappointing for a company to be so disorganized but that is an entirely different post) I love the compression socks. I've started to wear them after my runs and can feel a difference in the way my calf/shins feel. These ones are cute, so I don't look like a 90 year old diabetic but still service the same function. I would definitely recommend these if you are in the market for compression socks.
Overall, I am a huge fan of all of my new accessories!