It has been nearly a week since my
hiking accident
, and I was feeling a bit cabin feverish. I didn't have it in me to run in place on the treadmill, nor did I want the sympathetic looks from people since my eye is still a bit bruised. I did some research and found a 6 mile (one way) bike path not too far from my house. Despite living here for 18 years, I had never seen or heard about this said path. Without paying any attention to the weather, I got dressed and headed up to Shenantaha Creek Park where the Zim-Smith trail begins. I initially had high hopes of running 12 miles this morning after being semi-laid up all last week, but quickly realized that I was a stupid idea. Instead I went for a modest 7 miles along the trail.
It was cold out, I haven't lived in upstate NY for the past 4 years and I was barely a runner when I did still live here, so I am very proud of myself for sticking it out and running in 20 degree weather. The Zim-Smith trail is at the perfect level of popularity for a good run. I would come across people every 5 minutes or so, enough to not feel isolated. But quiet enough that the only noise is coming from my own feet shuffling a long.
Upstate NY is beautiful, but while running, I had several flashbacks to a few of my favorite runs in San Diego. For starters, a run there would never be in 20 degree temperatures, and most of my runs involved the ocean. I used to love running along sunset cliffs in OB during sunset, taking my time at my halfway point to watch the sun go down and the surfers sitting out past the breaks waiting for their perfect wave. Running from Mission Beach to PB was the run for I wanted an excuse to run slow, as there were always people everywhere. Mission Bay was well lit and an easy jog in the evening after work and Crown Point was a quieter version of Mission Bay with beautiful homes directly on the water . Sometimes, when I felt ambitious, I would run up the killer hill at Torrey pines, that down right tortures runners during the La Jolla Half Marathon. While almost all of my runs involve the ocean, my favorite route was on the trails, running along Los Penasquitos Canyon. I miss all of those runs. alot. But they were 3 years in the making, I haven't even been in Upstate NY for a month yet.
Despite the trail making me long for southern California ( it was probably the 20 degree temps, not the actual trail) this path is nice, it intersects with several other towns/roads, which would allow for dropping aid bags prior to a longer run. I can only imagine how beautiful this run would be in the fall as the leaves begin to change.
i want snow, so i can xcski!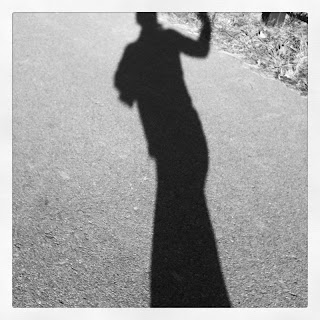 sometimes i have a little too much fun with shadows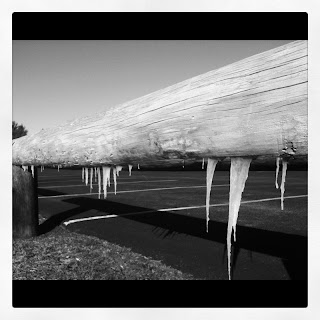 almost looking normal again!