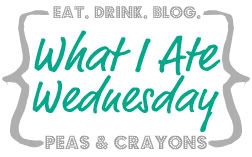 I've seen a handful of other blogs that I follow do a Wednesday What I Ate Weekly blog post. For some, it follows exactly what they ate that particular day, others do it as a recent roundup. I was home for almost all of the day, so I had no shame in taking photos of some of my meals before I ate them. I've recently started to try to get into the habit of writing down what I ate, more for research on how it effects my stomach ( I have ulcertative colitis) and to guilt me a little when there's more junk than real food entering my body.
Anyhow, here is what I ate today:
old fashion steel oats, some honey, and a tablespoon of peanut butter with some fruit. (yum, delicious for a cold fall morning)
Not exactly varied, but this is one of my favorite lunches. I like salty foods especially those that crunch. So carrots and hummus for the win. I've tried lots of different hummus and the Sabra garlic one is currently my favorite, although Cedars used to be before living out west.
My sister is currently in town and eating like she's a 7 year old. But really, who an pass up Kraft mac & cheese? I only had 25% while my sister downed the other 75% of the packaged meal.
I went to hibachi for dinner and ate my little heart out. Hibachi is one of my favorite meals and I ate just about everything on my plate.
I decided to treat myself to a starbucks hot cocco. I should have stuck to tea, but I was feeling the chocolate and sugar cravings. Tis the season!
When I woke up today and discovered that my swollen and scraped nose felt it was necessary to spread the love by creating a black eye..
I'm not totally sure of what the protocol is for running with a swollen face, so I took it easy and walked 2 miles at a 3% incline (31 minutes or so) and biked 5 miles at a level 5 (20 minutes). Certainly not my most exciting workouts ever, but at least I got off the couch and finished reading my Octobers runners world.
Any suggestions of working out with a broken face?