I woke up early today to meet with the temp agency I'll be working with until I find a new teaching/education related job. After, I drove out to
Grafton State Park
. It was a bit creepy when I got there as there was no one manning the main entrance (which did mean I got in for free, wohoo!) This park is usually packed in the summers, but I guess weekdays in the late fall are not popular. As I changed out of my professional clothes into my running gear, I realized that I had left my Nike+ watch at home. I was a bit annoyed with myself, but figured I'd use the opportunity to run naked. No headphones, no watch, and no real clue about the trail (other than some memory of walking it in the past .. although it might have been a different state park) The trail is well marked and great for running in some areas, but can get a bit technical in others with lots of beautiful wet mossy rocks and roots to climb over. What I didn't know before heading out onto the trails, was that the path is actually the Switzerland between hunt-able land and non hunting land. Thankfully, I was wearing my hot pink sports bra, in case any hunters mistook me for a deer.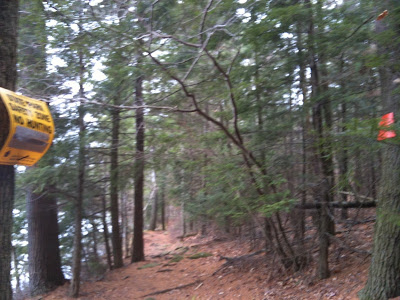 Yellow says no hunting, orange says hunting allowed.
The whole running through hunting grounds made me a bit nervous, especially since there wasn't any one else even in the park, but stupidly (and thankfully) I took my chances and went for it. If I lived closer to NYC where the hunters are a bit dumber, I probably wouldn't have risked it.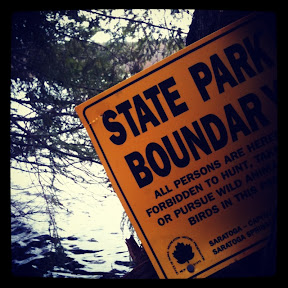 The run was great, although it was short, I would have run the lake a second time, but I did hear a few gun shots while out there, and I didn't want to push my luck. Thankfully hunting season ends soon so I'll have an opportunity to explore the park a bit more (according to the website there are 25 miles worth of trails in there!)
It's not a trail run until there is some mud.
I'm glad that I had left my watch at home and just went out for fun. Sometimes I get to caught up in documenting official miles and pace which can take the fun out of running. I'll have to remember to run naked a little more often to keep the spark alive.