I woke up a bit bummed that I was already leaving Barcelona (although I'll be back in November) I enjoyed the company of Kyle & Zahara and felt comfortable. I was definitely nervous about heading over to San Sebastian and living with a complete stranger. The train was very nice, far more organized than Amtrak. I had my ticket scanned before walking down to the platform, similar to an airplane. They even had seat assignments and movies playing for the ride. I fell asleep pretty quickly and slept quite uncomfortably for most of the morning. When I arrived, I walked over to the language school to pick up my keys. My bag is gigantic so the walk was a bit painful. I am definitely looking forward to downgrading before October & November. I found the apartment pretty easily and quickly unpacked. I didn't want my host to see my massive bag. I am definitely embarrassed by my over packing, since usually I'm a pro. I went out exploring but unfortunately didn't bring my camera with me. I stumbled upon the time trials of a rowing race that will be held for the next week the
Kontxako Bandera
I sat on the stonewall for a while watching the boats head into the water and watching prepared spectators jump into the bay. I was jealous that I wasn't in my bathing suit so that I could jump as well.
I headed back to the apartment and finally met my host. She is very friendly but unfortunately doesn't really speak English, and my Spanish is poor at best. She gave me the grand tour of the apartment and gave me a lot of information, I assume. I just kept saying si, but I understood most of her instructions as to where my stuff should go and how to work the washing machine. I was quite tired and ended up falling asleep for a bit before joining Leire (my host) with some of her friends for 1 Euro cervezas y pintxos. Leire's friends speak a bit more English and were also more patient as I tried to recall what Spanish I do know and spoke very slowly. The bars were completely packed. The streets were packed with everyone enjoying their cervezas, it definitely broke every alcohol code in the United States (except for the fabulous Las Vegas) It was a very unique experience to be out with "locals." We went to two other places with similar drink specials and met up with two girls that offered to take me out Friday evening. Since I don't have a cell phone, I'm depending solely on email and facebook, so we'll see if we meet up, but I'm hopeful!
Here are a few apartment photos
The hallway towards my room
a bidet!
cocina
dormitorio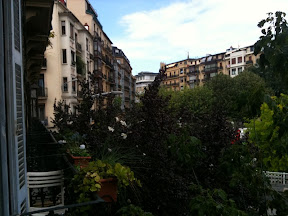 view from my balcony