I had gone to bed on Tuesday, unsure if I could do the backpacking life. It seemed that everyone else was travelling with someone and I began to question my ability to make conversation and friend strangers. Which is some serious self doubt considering, if you know me, I talk to anyone and can typically hold a conversation with a wall. In my own defense, I was tired. I had only slept 2 hours and was now sharing an un air conditioned room with 5 other adults.
I woke up around 8am and went out for a very painful shuffle. I could physically hear my body creak as I tried to remember how to run after a 3 day hiatus. I did bring my camera with me so I took a few shots of the area I was running in Barcelona
Guarding the dock?
2 guardians
where I was running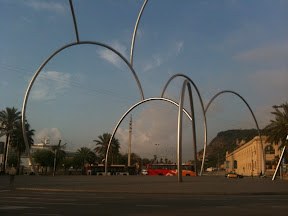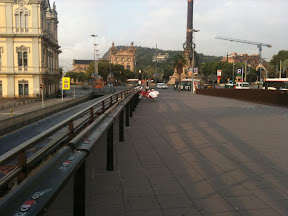 I'm standing at the top part of the bike share and goes to the last bike. Puts DC's capital bike share to shame
Louie the Lobster?
After my run, I had vauge plans to do some sightseeing and the land at the beach. I ended up chatting with a girl in my bunk, Kyle and we decided to head to the beach together. She is a fellow American from NYC via Maine. We ended up chatting about everything; life love, traveling, futures... nothing was off topic. After the beach ( and being asked incessantly if we wanted massages) we grabbed some Tapas and Sangria before heading back to our hostel. We spent some time relaxing and completing some admin before heading to travelers port for the free dinner for hostel guest. As we were getting ready we ended up chatting with Zahara, a contemporary dancer from New Zealand, and invited her to join us. We had a great evening, enjoying some delicious drinks ( yummy mojitos) until, the waiter came out to ask if Zahara had a purse. She had, but the discovered that it was now missing. The waiter had noticed that someone had ordered a beer, sat behind us, and then left a full beer behind. Around the time, the guy that had been sitting at the table in front of us had left his camera and returned to discover that his camera was still at the bar, but his wallet was now missing. He was also American, so I invited him to join us as we walked to the police station to file a claim, and then allowed for him to use my computer in order to cancel his cards and contact his parents.
At the end of the day, it really sucks for Zahara and Nathan, but both of them will be okay and no one was hurt. The evening events did remind me to finally pay for my travelers insurance, so in case something happens to me I can be protected